A step-by-step guide on how to get set up on Google My Business with optimization built in.
In this article, I'm going to show you how to set up Google My Business – the right way.
Google my business(GMB), is a free marketing tool that allows you to appear on the Google search results page and importantly, in the local map pack.
It is no secret, that GMB has solidified its place as the dominant entry point for local search.
Recent studies have found that 74% of consumers conduct local searches at least once a week. Of those searches, 54% said they would visit the business in person, either right away or the same day.
That's crazy. One in two are ready to become customers.
So for business owners having the power to manage what comes up about them in search results is a big, big deal. Businesses can catch customers' attention in the search results, manage their own reputation, and reap the rewards of a cleaner, bolder web presence.
Undoubtedly, having a Google My Business profile set up and optimized is one of the fundamental cornerstones of local marketing.
It's also easy to set up, you don't need any technical/computer skills and it's free.
Quick note: GMB is only for localized/services-based businesses.
Create a Google Account
If you already have a Google account you can skip this step.
Enter your name
You can either link an existing email provider, like Yahoo, or create a new Gmail account.

We suggest creating a new email address to keep things separate.
Enter your phone number – do not use a dummy phone number here as it is used for verification purposes
Enter a recovery email address. We suggest you do this as it allows for better security
Click next
You will be asked to verify your phone number. Click the Send button in blue
Enter the google code sent to your phone and click Verify
Google will then ask you if you would like to use that number for other Google products and services. We suggest allowing this by clicking "yes, I'm in."
Choose your personalization settings
Confirm Google T&C's
Start building your my business profile
Step one: Navigate to Google My Business
Navigate to the official Google my business page.
Click the Blue Manage Now button.
If you're not already signed into Gmail, it will ask you to sign in.
Be sure you are signed into the Gmail account you want to be associated with your Google business listing.
Pro Tip: Use the email you use for other Google Properties like Search Console or Google Analytics.
Type in your business name and select it from the drop-down.
Then click next.
Step two: Enter your business name
As with most aspects of life, doing the right thing is the right thing to do. Attempting to deceive search engines with keyword stuffing shortcuts isn't going to work – following legitimate SEO best practices will.
With that said, Google in many cases fails at creating an equal playing field and many take advantage of that inequality for short-term gain.
In the 2018 version of Moz's Local Search Ranking Factors Survey, their survey placed having your Product/Service Keyword in your GMB Business Title as the number #4 most important ranking factor.
This saw the extreme rise of adding keywords to your local listing alongside a location call out.
So instead of a business name like Mary's Firm SEOs would change titles to Mary's Divorce Lawyers London.
Was does this mean? What should I do?
Google is in constant flux, sometimes there are clear-cut definitions and sometimes there are not. At the time of writing this, the jury is still out on how businesses should proceed.
With that said…
Here's what you should know. Google's policy states:
"Including unnecessary information in your business name isn't permitted, and could result in the suspension of your Business Profile."
You can read a list of examples and best practices here (Guidelines for representing your business on Google).
Step Three: Select a primary business category (proper GMB Category Associations)
The same Moz survey found that GMB Category Associations was #3 most important ranking factor.
As with the business name be specific about what and who you are.
To use the same example of a lawyer just look at how many categories there are. Pick the one that BEST represents you.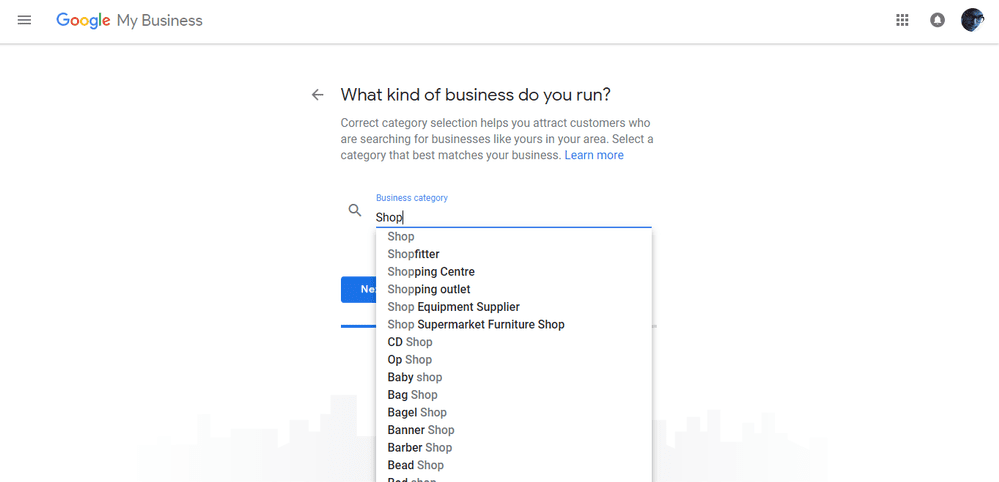 You might be saying to yourself here, we offer multiple services?
Well, I would say out of those services does 1 make up 80% of revenue? If so, go with that – that really is WHO you are right now. All in all, you can change it at any time if you need to or your revenue-driving activity changes. We will also be adding subcategories.
Step four: Setting your Google my business address
The Moz study found that the two most important factors to your ranking are where the searcher is located, aka. proximity (#1) to the physical address of your business (#2).
Google wants to serve you the most relevant business that is close to you, so that next time you need to search, you go to Google. Imagine if every time you searched for something near you, it was over an hour away. Would you still use their service? Probably not. Would they lose customers? Most definitely.
We will get into optimizing so that you are more likely to appear within proximity, but the point here is not to fool yourself by thinking you will dominate your entire city.
Here you have 3 options, do you:
Let customers come to you
You go to your customers
Or do you do both
Fill in as required.
Step five: Get your Google Business account verified.

Depending on what kind of business listing you're attempting to create (or manage) you will have different options available to you. With that said, 90% of businesses will need to wait for a postcard.
All options:
Verify by mail (postcard)
Verify by phone
Verify by email
Instant verification
Bulk verification
Once your postcard arrives you'll need to sign back into Google My Business, click Verify Location from the menu or the Verify Now button if it's available, then enter the 5-digit code from your postcard.
Step six: Set up the core information of your business profile
Once you have an officially verified listing, it's time to optimize your Google My Business.
Enter the following (we will explain in further detail the other sections to fill):
operational hours
special hours (public holidays etc)
business phone number • profile short name
appointment link
Step seven: Add optimized photos to your Google profile
Don't take this for granted, 60% of consumers say local search results with good images capture their attention and push them towards a decision.
Google advises businesses to upload several different types of images;
At least three strong exterior photos, taken at different times of the day and showing the approach to the business from common angles
A minimum of three interior photos
Product photos for the most popular products and services you sell
One image of any common areas your business may have, such as the reception
A minimum of three management and team photos
For bars, restaurants, and cafes, images of the most popular food and drinks
For hotels, images of guest rooms should be uploaded
Image requirements
Format: JPG or PNG
Size: Between 10 KB and 5 MB
Minimum Resolution: 720px × 720px
Quality: The photo should be in focus and well lit, and have no significant alterations or excessive use of filters. In other words, the image should represent reality.
Geotag your photos
Techy explanation: Geotagging is the process of adding geographical information to various media in the form of metadata.
General explanation: Add some information that tells Google where the photo was taken.
Navigate to https://imagemeta.io/ and follow the steps.
Tip: You should have 10 or so geotagged photos within your profile.
Step eight: Add videos to your google profile
Across the digital landscape, video content continues its rise to prominence. Its use within GMB is important.
Don't just add random videos. Ensure your videos aren't shaky and aren't shot in portrait mode.
Ask yourself, "If my competitor uploaded a video like this, would I make fun of them or envy them?"
As I've said in this guide countless times now Google will always punish companies who aren't truly representing themselves. Google can and will remove videos if the primary subject of the content is not related to the location. So, don't use stock video.
Video requirements
Max File Size: 100 MB
Max Video Duration: 30 Seconds Video
Min Resolution: 720p
Content ideas to get you started:
Video tour of your business
Video of staff (either doing work or giving an introduction of themselves)
Video of owner explaining why they made the business (mission/vision etc)
Interviewing customer
Step nine: Write an optimized & compelling business description
You can add a 750-character description to your GMB profile. This text should describe your business in an engaging, authentic manner and shouldn't reference things like sales or promotions.
Writing a comprehensive and compelling business description takes work. I recommend that you write out several versions before selecting which one you want to go with. Be sure to read all the business description guidelines (shown below) so you know what you can (and can't) include in your Google My Business Business Description.
Tips for writing
Tell the viewer what makes your business different
Why should they shop with you & not someone else
Don't spam
Don't keyword stuff
Don't put promos in and sound gimmicky
Don't use ALL CAPS
Step ten: Add additional categories
Earlier in the guide, we selected our primary category. While the primary category is the most important choice, secondary categories are still important to ranking and relevance. There are over 3000 GMB categories as of 2020 (3942 to be exact). Google allows you to select up to 10 categories for your business. You can view a complete list here.
When you select a category, you'll have the best results if you follow these three rules of thumb:
Be as specific as possible when choosing your Google My Business category – The more specific you are, the fewer businesses you'll be competing against for customers.
Add the least number of Google My Business categories possible to describe your core business – The more categories you have, the weaker each individual category gets in a potential customer's search for businesses that do what you do
Describe your business… not your services or amenities – If you are adding a new restaurant to Google My Business and that restaurant has a bar, you should not add "Bar" as a category because that does not describe your business, it describes your amenities.
Step eleven: Add product collections
Product Collections are for small- and medium-sized individual businesses. If you sell products, use this as an opportunity to give Google further information about who you are and what you sell. Showcase your KEY products and drive customer interactions.
Navigate to the products tab on the left and click get started. The process is straightforward and can be viewed in full here.
Step twelve: Set up tracking – the right way
If you measure the wrong thing, you set the wrong targets and if you aim at the wrong target, you arrive in the wrong place.
Tracking is one of the most important parts to get right from the get-go.
We need to set up UTM tags.
Why?
Without UTM tags, a page could be receiving organic traffic from two places and you wouldn't have any idea which was the biggest driver:
Standard organic results.
Google My Business profiles (knowledge graphs, local map packs, Google Maps)
Sure, in the Google My Business backend there are some reports, showing the number of impressions (how often my listing appeared), clicks on the phone number, get directions button or website button, and some other data:
In Google Analytics, if we use UTM tags we can uncover things like: How many pages did they view or did they make a revenue-driving action?
Go to URL Builder and enter your relevant naming conventions. If you haven't already set up a complete UTM naming strategy I would recommend this. For GMB I would recommend the following:
Source = Google
Medium = organic
Campaign = mybusiness
Content(only if multiple locations). If you have multiple locations use this section to add an identifier like a postcode. By doing so, you will be able to break your data out per location and dive deeper into per store analytics.
Once you're all set with creating your new UTM tracking URL, you need to add it to your listing. To do this, simply go to your account dashboard and select either info or edit. This will bring up a new screen with your company information.
Scroll down to find the existing URL and replace it with the new UTM tracking URL.
Once you add the new URL to your listing, you can refresh the page and it should be live.
How to view in Google Analytics
Now all of the hard work is complete, we're able to tap into our Google Analytics account and garner deeper insights. Login to your Google Analytics account and select the appropriate profile. Then navigate to: Acquisition > Campaigns > All Campaigns. You will be able to see how those coming from your GMB interact with your website and importantly their onsite conversion rate. We've seen conversion rates of 16% through GMB but most hover at 6%.
Step fourteen: Familiarize yourself with Google my business Insights
Delve into and make use of Google My Business Insights, to learn things like:
How many people visit your website
How many people searched for driving directions
How many people called you
How many people viewed photos of your business
To benchmark, your business's GMB performance against others in your industry, take a look at this Google My Business Insights Study.
A final note on Google my business

You've now set up your google my business profile.

The next step is to optimize it over time. There are many aspects to this and it requires your time and attention. One of the most important parts of ranking your business higher up in search results is the collection of Google reviews.
With 70% of consumers now always looking at a Google review before making a purchase offline, you need to have a strategy in place.

We have written a similar guide on how to get google reviews and if you are interested in using software to maximise your results you can check out our features here.