Dental & Orthodontic Reputation Management Software
In today's digital world, information circulates with just a click of a button. Your potential dental and orthodontics patients need to know that they can trust your services. Therefore, it is important to maintain a positive online presence as a health service provider. Good Reviews harnesses the role of technology by using dental review management software. This software monitors, enhances and protects your practice's reputation by collecting the best dental industry reviews.
💡 14.08% avg increase in patient bookings
Convert your website visitors into patients
Use the goodreviews trust-widget to turn reviews into patient bookings by displaying 5-star reviews on your website — so potential patients have everything they need to book a seat at your practice.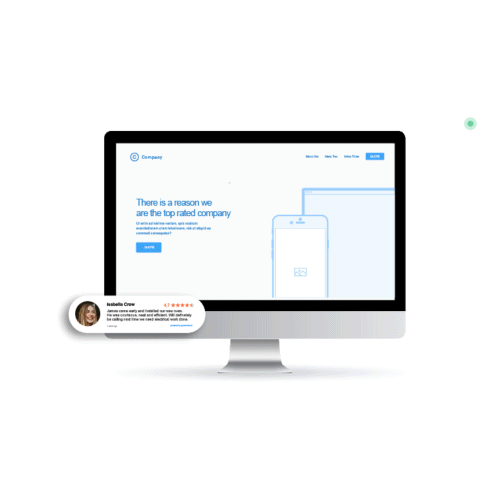 💡 133.3% avg increase in dental reviews
Would you go to a dentist without reading their reviews?
Reviews do more than just improve your brand image. The more reviews you have, the higher ranking your dental practice will be on Google
It's simple: more reviews mean more patients.
We integrate with most dental software so you can automatically send review invitations via email as soon as they finish they walk out the door.
We have QR codes that your customers can scan, custom in-store landing pages to collect google reviews in-person and more.
What will you see? Effortless review collection, a bolstered online reputation, and more patients in the door.
Visualize your Google review data in one place
Get a snapshot of everything you need to know about your dental reputation.
From total reviews, to review growth rates, to how many reviews you are currently projected to earn for the year.
Get noticed, attract new lifelong patients easily and grow your dental practice seamlessly
Automated review collection
Goodreviews seamlessly integrates with the software you already use. Send an invoice? Goodreviews can automatically send review requests.
Built-in follow up 
If your customer doesn't open their invite we will send them another one. We do this to increase the likelihood that you receive reviews.
Negative review deterrence
We help businesses deter reviews from going through to Google and allow you to collect valuable feedback
Turn browsers into buyers
Use the goodreviews trust-widget to turn reviews into revenue by displaying them on your website
Collect reviews in bulk with a few clicks
Upload your customer list, hit send, sit back and see an immediate uplift in your reviews.
On brand messaging
That's right, you can drop your logo, customize your wording and get the look and feel you want your customers to receive.


"We saw
 

13% more leads

 

with Goodreviews Very much recommend as a simple, cost-effective solution for displaying & collecting reviews."

– Jessica, Marketing Manager, Cricks Automotive

"We
 

doubled our reviews

&

 

broke our company records for reviews collected. I'd been looking for a tool like this for a while.

– Marcel Harfouche, Chief Marketing Officer, Doors Plus
Frequently Asked Questions
What is the Importance of Reviews for your Dental Clinic?
Reviews provide your dental and orthodontic clinic with an online reputation that influences the decision of your potential patient. Positive orthodontic software reviews can make your clinic appear in local search results. 
It can also increase your Google rankings, prompting more patients to use your clinic services. 
Reviews are highly important for a dental clinic due to the following reasons:
Trust and Credibility: Reviews help establish trust and credibility for your dental clinic. Potential patients often seek feedback from others to assess the quality of dental services and the overall patient experience. Positive reviews act as social proof, reassuring potential patients that they can trust your clinic with their oral health.
Patient Acquisition: Reviews play a significant role in attracting new patients to your dental clinic. Positive reviews act as testimonials that showcase the satisfaction and positive experiences of existing patients. These reviews can be featured on your website, social media platforms, or third-party review sites, serving as influential factors for potential patients when choosing a dental provider.
Patient Satisfaction: Reviews provide valuable insights into the experiences of your patients. They offer feedback on various aspects of your dental clinic, including the quality of dental care, the professionalism of the staff, the cleanliness of the facility, and the overall patient experience. By actively monitoring and analyzing reviews, you can gain a better understanding of patient satisfaction levels and identify areas for improvement.
Quality Improvement: Negative reviews, though not desired, can provide opportunities for improvement. They highlight areas where your dental clinic may be falling short, whether it's in communication, wait times, billing processes, or the effectiveness of treatments. By paying attention to negative reviews and addressing any issues raised, you can take necessary steps to improve the patient experience and enhance the quality of your dental services.
Online Reputation Management: Reviews contribute to your dental clinic's online reputation. Positive reviews help build a strong online presence and improve your clinic's visibility in search engine results. Conversely, negative reviews can have a detrimental impact on your reputation if left unaddressed. By actively managing your online reputation, responding to reviews, and resolving any concerns, you can mitigate the impact of negative feedback and maintain a positive image for your dental clinic.
Patient Retention and Loyalty: Positive reviews can contribute to patient retention and foster loyalty. Satisfied patients who leave positive reviews are more likely to become repeat visitors and refer others to your dental clinic. By delivering exceptional patient experiences and encouraging satisfied patients to leave reviews, you can strengthen patient loyalty and encourage a steady stream of referrals.
In summary, reviews are vital for a dental clinic as they build trust, attract new patients, provide valuable feedback for improvement, contribute to online reputation management, and enhance patient retention and loyalty. Monitoring and actively engaging with reviews can help your dental clinic thrive and succeed in a competitive market.
How Can Good Reviews Help Me Get More Reviews for Our Dental Clinic?
Good Reviews can help you get more reviews by using dental reputation management software to collect positive dental industry reviews. These reviews build credibility and serve as social proof for potential patients visiting your clinic. 
The dental clinic reputation management software will be tailored to collect, monitor, manage, and display the best feedback to enhance your clinic's reputation. It boosts your online presence and, ultimately, your earnings for the year.  
How Do We Collect Bulk Reviews from Our Dental Clinic Patients?
The online reputation management dental software can send automated bulk review requests. This feature saves you the stress of collecting several reviews from individuals. These review requests are timely and personalised for patients visiting the clinic.
Can We Collect Our Patients' Reviews within Our Clinic?
You can collect patients' reviews within your dental and orthodontic clinic. Good Reviews can use dental review management software to gather reviews from patients that visit your clinic. 
This software can send review invitations or collate feedback reviews from QR codes scanned by patients during their visit to your dental clinic.
Can We Automate Follow-up Messages if Our Dental Clinic Patients Forget to Leave a Review?
Certainly! Dental reputation management software comes with automation ability. Good Reviews use the software to send automated emails and texts to thank your patients for visiting the clinic and request feedback in a polite, friendly tone.
Can We Collect Reviews from Our Dental Clinic Patients Through Texts?
You can request reviews from your dental clinic patients through text messages. It is a safe, simple and easy way to collect feedback from your patients. You can brand these texts to reflect the values of your dental and orthodontic clinic and make them suit your target audience.
Which Software Used by Dental Clinics Can Be Integrated with Good Reviews?
There are various dental reputation management software that Good Reviews can integrate to help you collect, manage, and display the best reviews on search results and your website. This software includes Dentrix Ascend, Dovetail, Dentrix, Zoho CRM, EagleSoft, and many others.
Using dental reputation management software can increase positive reviews and help your dental clinic build a strong online reputation that attracts new patients.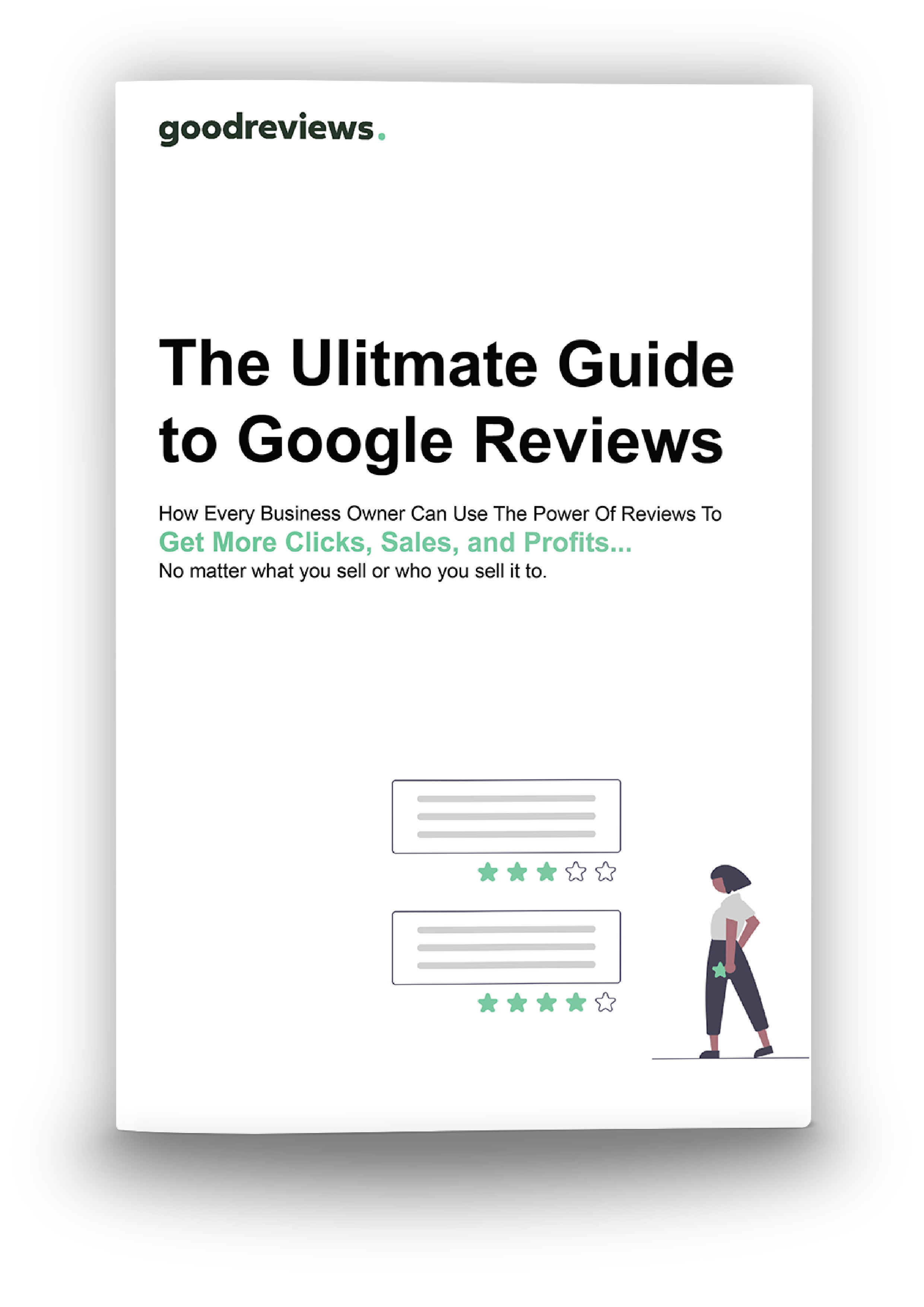 The Ultimate Guide to Google Reviews
How every local business owner can use the power of Google Reviews to get more clicks, sales, and profits… No matter what you sell or who you sell it to.