Automotive Dealership Reputation Management Software
Google reviews have become one of the most effective automotive marketing strategies out there. Our range of tools build your review profile, bolster your online reputation and allow you to become the go-to automotive business in your local area.
Be the top car dealership on Google
Goodreviews provides a combination of tools that helps local dealers dramatically increase the amount of Google reviews they receive every month with customizable email campaigns, automated-follow ups, dedicated review landing pages, review automation, and we provide in-depth analytics to track everything along the way.
💡 13.3% avg increase in test drives booked
Turn car browsers into car buyers
Use the goodreviews trust-widget to turn reviews into test drives by displaying them on your website — so car buyers have everything they need to book a test drive.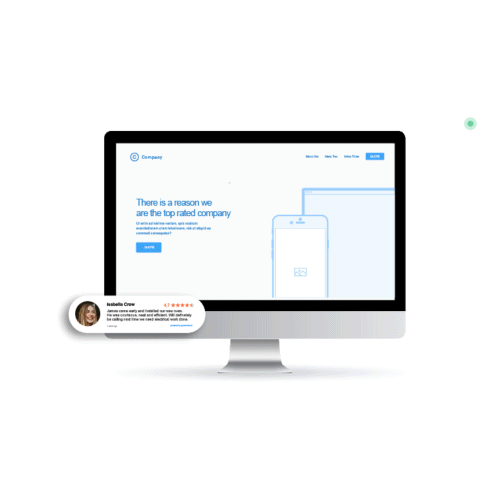 Reviews are one of the key ways that consumers buy on trust.
It's simple: more reviews mean more cars sold.
We integrate with most dealership software so you can automatically send review invitations via email as soon as they finish the customer experience.
Strike whilst the iron is hot by empowering your staff to send review invitations by text straight from their phone.
Custom in-store landing pages to collect google reviews in-person and more.
What will you see? Effortless review collection, a bolstered online reputation, and more cars driving off the lot.
Goodreviews is the best reputation management software for the automotive industry. With the software, you can show potential customers genuine reviews from previous clients. The software perfectly suits the automotive sector with simplified usability and integrations.
Visualize your Google review data in one place
Get a snapshot of everything you need to know about your automotive reputation.
From total reviews, to review growth rates, to how many reviews you are currently projected to earn for the year.
All the tools an automotive marketer needs
Automated review collection
Goodreviews seamlessly integrates with the software you already use. Send an invoice? Goodreviews can automatically send review requests.
Built-in follow up
If your customer doesn't open their invite we will send them another one. We do this to increase the likelihood that you receive reviews.
Negative review deterrence
We help businesses deter reviews from going through to Google and still allow you to collect valuable feedback
Turn browsers into buyers
Use the goodreviews trust-widget to turn reviews into revenue by displaying them on your website
Collect reviews in bulk with a few clicks
Upload your customer list, hit send, sit back and see an immediate uplift in your reviews.
On brand messaging
That's right, you can drop your logo, customize your wording and get the look and feel you want your customers to receive.


"We saw 13% more leads with Goodreviews Very much recommend as a simple, cost-effective solution for displaying & collecting reviews."
– Jessica, Marketing Manager, Cricks Automotive

"We
 

doubled our reviews

& broke our company records for reviews collected. I'd been looking for a tool like this for a while.

– Marcel Harfouche, Chief Marketing Officer, Doors Plus
Frequently Asked Questions
What is the Importance of Reviews For the Modern Automotive Industry?
Reviews hold significant importance in the modern automotive industry for several reasons:
Consumer Trust: Reviews are instrumental in building trust between consumers and automotive businesses. Potential car buyers often rely on the experiences and opinions of others when making purchase decisions. Positive reviews create a sense of credibility and reliability, influencing potential customers to trust a particular dealership or automotive service provider.
Informed Decision-Making: Reviews provide valuable insights into the quality of vehicles, customer service, and overall experience offered by automotive businesses. Prospective buyers can learn about the performance, reliability, and features of different car models through firsthand accounts shared by existing customers. These reviews empower consumers to make informed decisions based on real-world experiences.
Reputation Management: Online reviews play a crucial role in shaping the reputation of automotive businesses. Positive reviews help establish a positive brand image and attract more customers, while negative reviews can have the opposite effect. Monitoring and managing reviews allow automotive businesses to address customer concerns, rectify any issues, and demonstrate their commitment to customer satisfaction.
Competitive Advantage: In a highly competitive industry, positive reviews can serve as a differentiator for automotive businesses. Favorable reviews highlight the strengths of a dealership, such as exceptional customer service, transparent pricing, or knowledgeable staff, setting them apart from competitors. This competitive advantage can attract more customers and drive business growth.
SEO and Online Visibility: Reviews contribute to search engine optimization (SEO) efforts and online visibility for automotive businesses. Positive reviews improve the overall rating and reputation, leading to higher search rankings. Moreover, review platforms and directories provide additional online exposure, increasing the chances of potential customers discovering and considering a particular dealership or automotive service provider.
Continuous Improvement: Reviews offer valuable feedback for automotive businesses to identify areas of improvement. Whether it's customer service, vehicle quality, or post-purchase support, reviews highlight strengths and weaknesses. This feedback can be used to enhance processes, refine services, and address customer concerns, ultimately leading to better customer experiences and increased satisfaction.
In summary, reviews play a vital role in the modern automotive industry by building trust, facilitating informed decision-making, managing reputation, gaining a competitive advantage, improving online visibility, and driving continuous improvement. Automotive businesses should actively encourage customers to leave reviews and diligently monitor and respond to feedback to harness the benefits that reviews bring.
How Do We Collect Bulk Reviews From Our Car Dealership Customers?
Directly asking for reviews is the easiest method to obtain them. Don't be afraid to express to your customers how much you value their opinions. After each customer engagement, you can ask for reviews.
Goodreviews offers a potent combination of tools designed to dramatically increase your dealership's Google reviews. From automated review campaigns and follow ups, to dedicated review landing pages and seamless review automation, we've got you covered. We also provide in-depth analytics to keep you informed about your progress, allowing you to continuously refine your strategy.
Launch impactful Review Invite Campaigns using multi-step SMS and email strategies that work on autopilot. These carefully designed campaigns gently guide your customers through the review process, making it easy for them to voice their positive experiences.
Schedule and automate your invitations, eliminating the need for manual follow-ups. Even better, through our native integrations or with Zapier, Goodreviews can connect with over 3000+ apps, harmonizing your review collection efforts with your existing business tools and platforms.
Can Car Dealerships Collect Reviews In-Store?
Yes. Using in-store reviews, your customers can document their experience without leaving your store. With the customization features Goodreviews offers, the page will look exactly like yours with your website's wording and logo.
Can We Automate Follow-Up Messages if Our Car Dealership Customers Forget to Leave a Review?
Absolutely. With Goodreviews' automotive reputation management software, you can email review invites immediately after a customer completes their transaction.
Can We Collect Reviews From Our Car Dealership Customers Through Texts?
Yes. Using Goodreviews, you can provide your team with the ability to text review invitations directly from their phones, giving them a more unique and personal touch that will make the client feel appreciated.
Which Softwares Used by Car Dealerships can be Integrated with Good Reviews?
Some of the most popular car dealership software that can be integrated with Goodreviews are DealerCenter, Autosoft, Dealertrack, and CDK Global.
Contact us immediately to improve your internet presence and establish your company as the leading automotive provider in your community.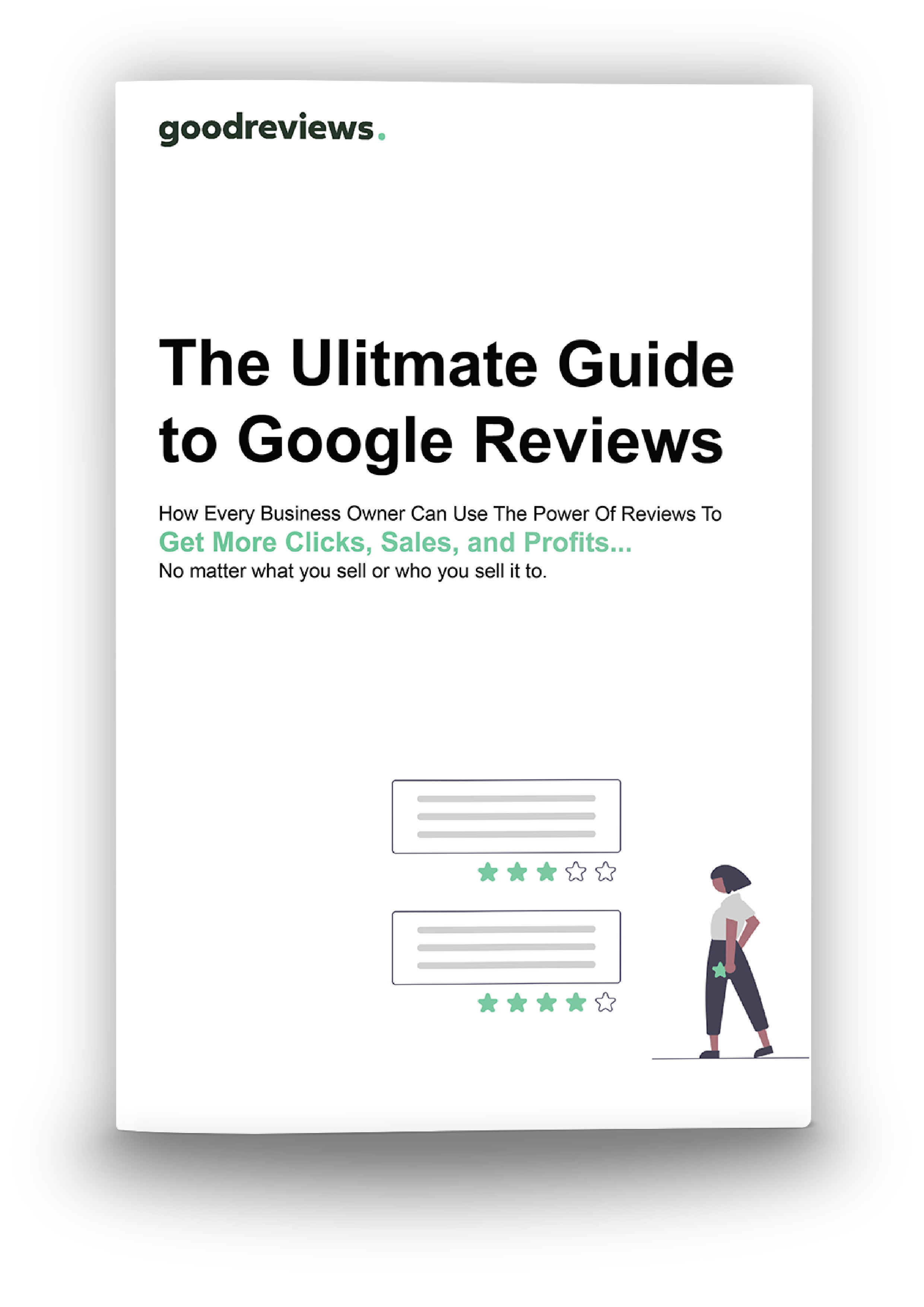 The Ultimate Guide to Google Reviews
How every local business owner can use the power of Google Reviews to get more clicks, sales, and profits… No matter what you sell or who you sell it to.