Beauty Industry Reputation Management Software
The Goodreviews platform helps beauticians like you easily generate Google reviews at scale so that you can become the number one option on Google and get more bookings then ever before.
💡 14.08% avg increase in bookings
Convert your website visitors into bookings
Use the goodreviews trust-widget to turn reviews into bookings by displaying 5-star reviews on your website — so potential customers have everything they need to feel confident they will have a great experience with you.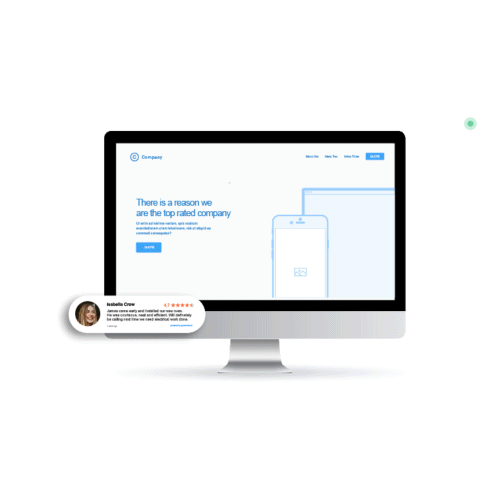 💡 133.3% avg increase in beauty reviews
Would you book into a salon without reading their reviews?
It's simple: more reviews mean more bookings.
We integrate with most beautician software so you can automatically send review invitations via email as soon as they finish.
Custom in-store landing pages to collect google reviews in-person and more.
What will you see? Effortless review collection, a bolstered online reputation, and a lot more bookings.
Visualize your salons Google review data in one place
Get a snapshot of everything you need to know about your salons reputation.
From total reviews, to review growth rates, to how many reviews you are currently projected to earn for the year.
All the tools a salon owner needs
Automated review collection
Goodreviews seamlessly integrates with the software you already use. Send an invoice? Goodreviews can automatically send review requests.
Built-in follow up 
If your customer doesn't open their invite we will send them another one. We do this to increase the likelihood that you receive reviews.
Negative review deterrence
We help businesses deter reviews from going through to Google and allow you to collect valuable feedback
Turn browsers into buyers
Use the goodreviews trust-widget to turn reviews into revenue by displaying them on your website
Collect reviews in bulk with a few clicks
Upload your customer list, hit send, sit back and see an immediate uplift in your reviews.
On brand messaging
That's right, you can drop your logo, customize your wording and get the look and feel you want your customers to receive.


"We saw
 

13% more leads

 

with Goodreviews Very much recommend as a simple, cost-effective solution for displaying & collecting reviews."

– Jessica, Marketing Manager, Cricks Automotive

"We
 

doubled our reviews

&

 

broke our company records for reviews collected. I'd been looking for a tool like this for a while.

– Marcel Harfouche, Chief Marketing Officer, Doors Plus
Frequently Asked Questions
What is the Importance of Reviews For Beauty Salons?
Reviews play a crucial role in the success and growth of beauty salons. Here are some key reasons why reviews are important for beauty salons:
Establishing credibility: Positive reviews from satisfied customers help establish the credibility of a beauty salon. When potential clients see positive feedback and experiences shared by others, they are more likely to trust the salon and feel confident in booking an appointment.
Building trust: Reviews act as social proof, demonstrating that the salon has provided quality services and satisfied customers in the past. Trust is essential in the beauty industry, where clients want to ensure that their needs and expectations will be met. Positive reviews contribute to building trust with potential clients.
Influencing decision-making: Prospective clients often rely on reviews to make informed decisions. They consider the experiences of others to assess whether a salon can meet their specific needs and preferences. Positive reviews can significantly influence potential clients to choose a particular salon over its competitors.
Improving customer experience: Reviews provide valuable feedback that can help beauty salons enhance their services and overall customer experience. By analyzing reviews, salon owners and staff can identify areas for improvement and make necessary adjustments to better serve their clients' needs and expectations.
Encouraging word-of-mouth referrals: Satisfied customers who leave positive reviews are more likely to recommend the salon to their friends, family, and colleagues. Word-of-mouth referrals are powerful marketing tools, and reviews serve as catalysts for generating new business through personal recommendations.
Boosting online presence: Online reviews, particularly on platforms like Google, Yelp, or social media, contribute to the online presence of a beauty salon. Positive reviews increase the visibility and reputation of the salon, attracting more potential clients who come across those reviews during their search for beauty services.
Overall, reviews are invaluable for beauty salons as they contribute to building credibility, establishing trust, influencing decision-making, improving customer experience, encouraging referrals, and boosting online visibility. Salon owners should actively encourage their satisfied clients to leave reviews and consistently monitor and respond to feedback to maintain a positive reputation.
How Can Good Reviews Help Me Get More Reviews For Our Beauty Salon?
With Goodreviews, we automate review invites to customers. This feature helps you send personalised follow-up messages to customers and get their reviews. 
Goodreviews enables bulk messages for reviews to all your customers, automatically boosting the number of positive Google reviews. You can also deter negative reviews from showing up on your business page. As the number of positive reviews for your beauty salon increases, so does the potential for attracting more customers and, in turn, driving higher sales for your business.
Can Beauty Salons Collect Reviews In-Store?
Yes. You can design your in-store landing pages using Goodreviews to gather Google reviews in person and more. The software can integrate with your website, and you can customise the page with your logo and slogan. Your customers can feel at ease when leaving reviews.
Can We Automate Follow-Up Messages if Our Beauty Salon Customers Forget to Leave a Review?
Yes. Most beautician software is integrated with Goodreviews, allowing you to immediately email review invitations to your clients as soon as they finish. If they had forgotten to leave a review, the email invitation would prompt them to do so.
Can We Collect Reviews From Our Beauty Salon Customers Through Texts?
Yes. With Goodreviews, your team can send review invitations directly from their phones. It allows them to add a more distinctive and personalized touch to make the client feel valued.
Which Softwares Used by Beauty Salons Can Be Integrated with Good Reviews?
Some of the most popular software that beauty salons use can be integrated with Goodreviews. It includes Vagaro, Phorest, and Zenoti.
Contact us today to enhance your internet reputation and easily become the top-rated business in your area.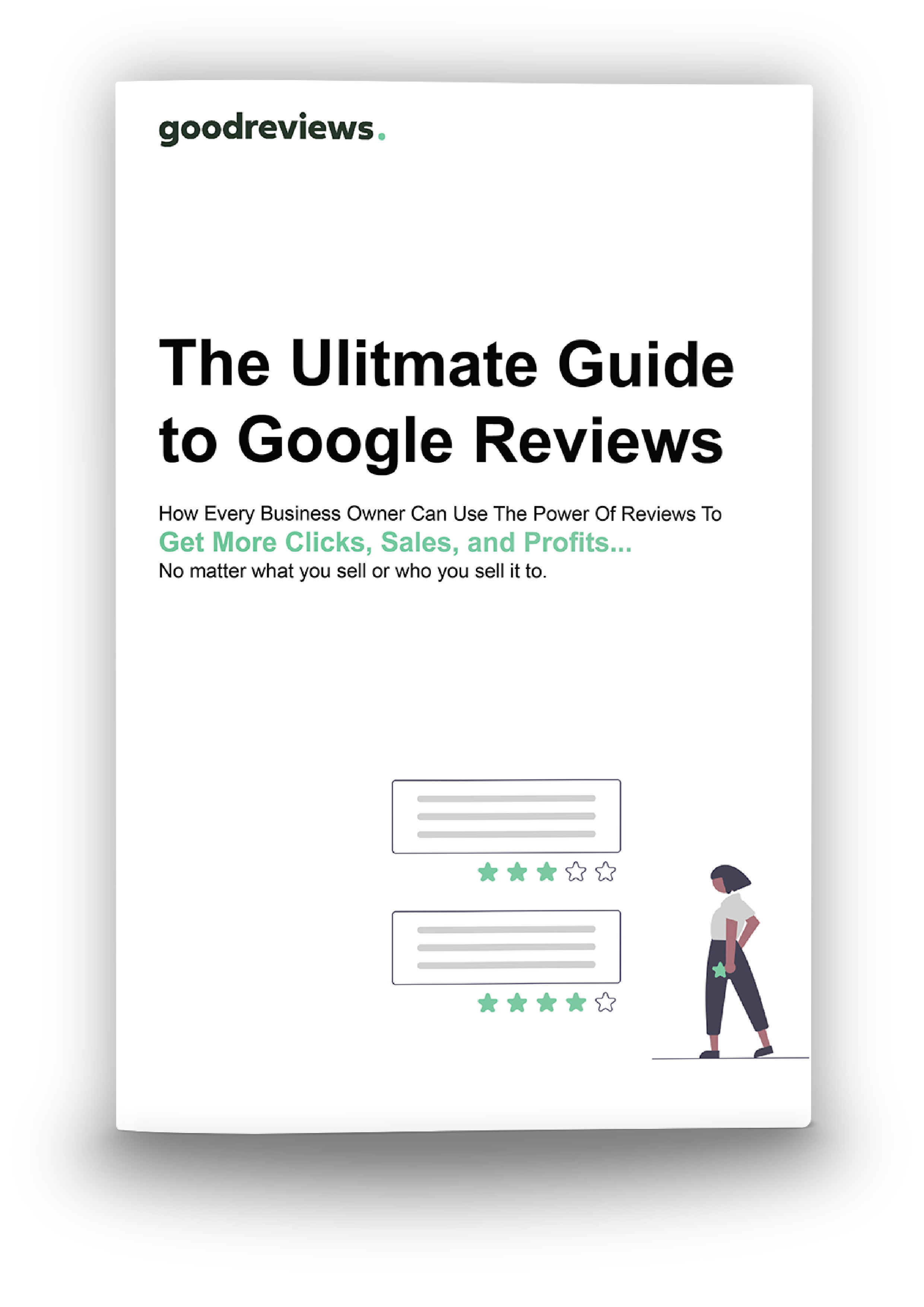 The Ultimate Guide to Google Reviews
How every local business owner can use the power of Google Reviews to get more clicks, sales, and profits… No matter what you sell or who you sell it to.